Reviews
"I am helping to birth the staged performance of "From the Realm of Shadow" to stand and dance in solidarity with the one in four women in the United States and women around the globe who are sexually and emotionally violated. As a woman I carry the repressive history of all women in my DNA. I offer my body-voice as an instrument through which violence, rejection, persecution and all atrocities against women can be cleansed and a new way of embracing the power of the feminine can be seeded and radiated into the matrix of human consciousness. This musical drama offers hope and healing through unconditional love and compassion. It is the way forward for us as a species… …it is a way forward for me and the only way we will stand in our true nobility. Women hold the energy of our home, our earth-mother and just as we must wake up out of the unconsciousness of violence against women, we must also stop raping the earth if we are to survive. As an artist I am committed to shining light in the darkest places of the human soul so that perceptions of our possibilities can awaken and that which is hidden might find a way into the heart. Until the story changes, the story must be told."
Christa Ray, Giving Voice Productions
___________________________________________________
Music is powerful medicine. One of the most successful modalities of complementary medicine, music therapy has been shown to control pain in terminally ill patients, boost the mood of cancer patients and decrease the need for sedatives during surgery. Listening to or performing music are now part of treatments for cancer, Parkinson's, Alzheimer's, stroke and brain injury, depression, AIDS, chronic pain and stress.
And the powers of music seem to multiply dramatically when the patients are professional musicians or composers. Suddenly their art, which usually works its magic on others, takes on a new kind of significance for the creators themselves. Many report that the encounter with music's healing powers is life-changing, and they often emerge from the experience with a new desire to help and heal others through music…
"I was invited to participate in a gang rape, " says Christopher Mohr almost casually. But his calm today belies the trauma that drove him to a 22-yeaar struggle, through music, with the shadow side of human nature. "I was in a college dormitory with a bunch of guys who got involved in an attempted gang rape. I was invited to join. We were each going to tear off one item of [the young woman's] clothing. It was absolutely horrifying, and what was going on inside of me was also horrifying, because part of me wanted to join in the rape. I ended up telling them that I thought that she needed a drink of water before we raped her. They were just as confused as I was and said 'OK'. I brought her to the drinking fountain in the hall and she was able to get away.
"I did the right thing. I was 'good'. But I had to recognize that I couldn't separate myself from the bad guy anymore. And that was where I was forced to confront my shadow for the first time."
Mohr never saw the woman again and wonders about her memories of the event. For him, the trauma led to recurring nightmares: "I was dreaming a fully staged opera – the music, the chorus, the lights." Feeling that he was being called by his subconscious to write about the event, he began working on a piece that grew into From The Realm of The Shadow, a massive music drama in three acts. Mohr, a self taught composer who began writing seriously in his teens, drew on all his musical knowledge for the piece. It's scored for symphony orchestra, chorus and soloists abetted by ethnic percussion and such instruments as the oud, the sitar and Ukrainian wooden flutes. The music runs the gamut from beautiful orchestral sections and harmonious (and wordless) choral singing to percussive violence of the attempted-rape scene, which also includes screaming vocals inspired by Balinese "monkey chants." The work was released last year on a double-disc set on the Naxos label (packaged with notes by Mohr on the genesis of the piece) and is slated to be staged by Colorado's David Taylor Dance Theater in 2003.
Working on the piece, Mohr says, was a personal healing journey. "But very little of what happens in it is directly autobiographical," he says. "I began to realize that the healing journey in this work is, if not universal, at least a part of the collective experience of humanity."
Mohr believes that the real danger of the shadow comes when we reject it. "If you define the shadow as everything about yourself that you reject, the first things you see are all the gargoyles. But when you let your heart be pierced by what is coming up, the healing begins." August 1, 2000
Body & Soul – Holistic Health 2002
__________________________________________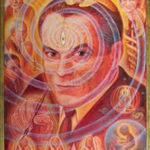 Drawing creative inspiration from years of intensive personal self-exploration, Chris Mohr has been able to combine visions from the depths of the archetypal psyche with original music of extraordinary evocative power. From The Realm of The Shadow is a unique artistic achievement; it will have a profound emotional impact on the audiences worldwide.
Stanislav Grof, M.D., author of Psychology of the Future, The Cosmic Game, When the Impossible Happens, and The Ultimate Journey — November 23, 2012
__________________________________________
Chris Mohr's life-long confrontation with his own 'shadow' has taken the form of a grand multi-media event. For all its new-age and psychological content, both dramatically and musically, it falls into the category of the classical Rite of Passage. As in mythology, the hero's journey represents the experience of society, while the soul struggles to accept the brutal nature of the human experience. In this case the hero is on a journey of self-exploration following a traumatic gang-rape. Thus, From The Realm of The Shadow is a timeless ritual seen from a contemporary perspective. It is rare nowadays to encounter a new drama that dares to deal with taboo issues. I am amazed by the amount of courage displayed in its creation.
As a director I am fascinated by the abstract 'shadowscape' Chris Mohr has depicted. His music rises beyond the forms and styles he employs and strikes true originality. It takes the listener on a journey from the most primitive to the sublime. The lack of words, but the unfolding of riveting drama challenges the listener's imagination to envision his own fantasy 'staging.' My own preoccupation with the emotional effects of light, shadow, color, movement and sound responds to Chris's magical hints on an instinctive level using stage technology that points towards the future.
Micha Hendel, Assistant Director, Washington National Opera – March 18, 1996
__________________________________________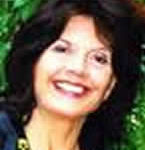 Chris,
Thank you very much for sending a preview of From The Realm Of The Shadow. I am listening to it right now, and marvel at its beauty! I look forward to meeting you. You are an accomplished artist and a spokesman for our Creator's work.
Jacquelyn Small, author and director of Eupsychia Institute
__________________________________________
Dear Chris,
…Very easy to take music, makes you smile… [it has an] easy simplicity of style that ought to gain favor when it's performed with audience and musicians alike… a fine job.
Wendy Carlos, creator of Switched On Bach – December 21, 1997
__________________________________________
On the basis of earlier listening sessions of the work-in-progress, I found the work to be surprisingly accessible and rhythmically enticing.
Marc Shulgold, Denver Rocky Mountain News – January 10, 2000
__________________________________________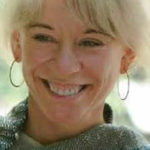 I love your music. Even if nobody knows what to do with it. It's too much for the consensual culture. It's a mystery that anyone can hear it. This is beauty that has come through. And the horror that is also in beauty, that has come through. I think it is beautiful, terrifying, and sublime. It may be too beautiful, too terrifying, too sublime. It is so big. You spent twenty five years of your life creating a work that gives resolution to a moment of horror in your life. It's profound, it works. What a blessing. What a teaching. What a contribution to true Self-Inquiry you have made.
Gangaji – January 16, 2001
__________________________________________
Dear Chris,
I consider From The Realm Of The Shadow to be a truly outstanding opus in many respects. Yes, it is a music drama, closer to Wagner's meaning of the word than any other genre. And it is so much more than music or drama. I felt, very, very deeply moved in the realms of the personal, the transpersonal, and the archetypal. I know it will not be easy to produce, but I think it is very important that this work be produced, as it has tremendous power to help people understand and heal their wounds. Haven't we all been raped in some sense' The difficulty of understanding our rape keeps so many in pain, taking out their pain with violence on others, propagating even more pain. Understanding the universality of that experience and seeing the perspective of the greater good could be a tremendously healing experience for all who witness it.
I'm sure you don't need another suggestion to make it even more expensive to produce, but I will share what I think about it being such a perfect vehicle for ice drama. Skaters can do so much more than dancers, moving faster with more varieties of various passions, floating through air, and clouded by CO2. But that is a small matter; danced, or skated, or merely sung, it will be marvelous.
Maryanne Jerome (Jungian psychiatrist)
– May 17, 1999
__________________________________________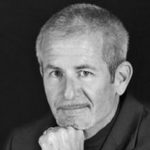 I first had the privilege of hearing Chris Mohr's composition From The Realm Of The Shadow in a sound studio in 1998. I was struck by the power of the work. The battles between the light and dark forces inherent in the spirit world are approached in an appealing, unique and unusual way. Because of the rhythmic force and power of the music, the work lends itself to a comparably powerful dance, music and multi-media production. As a choreographer I have always been attracted to music and subject matter of this kind. Because of the powerful nature of the composition, I'm hoping that some time in the future the opportunity will present itself for my talents to combine with those of the composer to create something very special in the performing arts. Choreographing this work, or part of this work, would be a very exciting project. I am more than happy to lend my full support, artistically and otherwise, to From The Realm Of The Shadow.
David Taylor, Artistic director of the David Taylor Dance Theater, Colorado – February 16, 1994
__________________________________________
Dear Chris,
I can't tell you what an exciting evening this was, home with my radio, listening to you present your musikdrama. I had told several friends to listen. I had an even more positive reaction to your music tonight than on previous hearings. Its power grows with familiarity. I love your first two acts; they are powerful and moving. Your third act drove me to dance. The 21/8 rhythm is nothing short of brilliant. It seemed a sacred experience. From The Realm Of The Shadow has a very elemental presence, kind of pure symbols, simplistic in that sense of purity.
Maryanne Jerome (again) January 10, 2000
_________________________________________
Dearest Chris,
What a gift! I love it! Variety, variety, variety'from sweet, spring-like innocence to intense struggle. I was totally involved from the start. I loved the emergence of the Patriarch, the shocking, erotic rape scene (the percussion brought up strong anger for me), Camilla's pleading wonderful! I won't review each act, but will say from beginning to end I was riveted. The beautiful variety of the textures provided by the many instruments (particularly Act One Scene Seven), and the shifts from frenetic activity to silence or slow movements were totally engaging. The bells and chorus in Act Three were, for me, a welcome relief they always symbolize the trust or reliance on God even though you state in your liner notes that 'real transformation appears impossible.'
Oh gosh, I almost forgot the use of voice without words was brilliant! It evokes so much more emotion and imagination. I love it!
Matthew and the Patriarch duet of reconciliation was very touching. Tears came up'I found myself wishing it had lasted longer. You were fortunate to find such great singers. Your music demanded a lot from them. They were great.
Wonderful, wonderful, wonderful! I sincerely hope it finds its way to the stage'how I'd love to see it performed. Accordion'who would have thought. What a joy.
All my love,
Ram (retired) – February 15, 1999
__________________________________________
Dear Chris,
We are still in awe of the time, energy, emotional drain that went into this masterpiece! Thank you for sharing this major focus of your life.
Paul Berteau, Manager of Recycling firm – February 11, 1999
_________________________________________
Dear Chris,
My appreciation of your opera can be divided into two categories: technical/structural and emotional/spiritual. As for the former, the variety of musical styles, instruments and tonality so skillfully employed makes this one of the most eclectic pieces I've ever heard. I also find the use of voices without words very appealing. I am no lover of traditional opera. However, using the voice as an instrument is another matter. Technically the piece is wonderful. But without 'soul' it wouldn't go far with me. A number of scenes resonated with my spirit. I've never had a chance to thank Van Gogh, Hemingway, Ansel Adams or any other great creative mind for the gifts of joy their work has given me. It is therefore with some pleasure that I thank you for your 20 years of effort in creating something for me to enjoy over and over again.
Will Mahoney (environmental geologist)
_________________________________________
Just as English majors hope to write the great American novel, I suppose every musician wants to compose a grand opera. Chris Mohr of KOVD-FM radio has done it. And it only took him 22 years.
The story begins when he was 19 and rescued a girl from a gang rape. The incident prompted a life-long struggle with what he terms "the dark side of human nature."
"For two years I had a series of dreams about a fully staged operatic version of what had happened," said Mohr, who also operates a Denver marriage chapel with his wife Karen.
He's been writing the music drama ever since.
Titled "From the Realm of the Shadow," the eclectic two-hour work is for five soloists, double chorus and chamber orchestra, and it contains no words, only vocalise.
"The reason they don't sing any words is that From The Realm Of The Shadow is any aspect of ourselves that we don't embrace or accept. The different characters and choruses represent…a fractured psyche." said Mohr, a self-taught composer and devoted Wagnerian.
The musical language ranges from Bach to Shostakovich, with a microtonal section, Indian raga, Ukrainian folk music and a chorus that sounds like Balinese money chant, Mohr said.
The Colorado Symphony performed 10 minutes of the work in 1991. However, when Mohr mentioned it to Boulder Philharmonic Music Director Theodore Kucher, who also conducts the National Symphony Orchestra of Ukraine, said his forces would record the opera if Mohr would finance it.
Last week, Kuchar and Mohr flew to Kiev to begin recording sessions scheduled to last two weeks. Mohr, who formerly published On the Air Magazine, hopes for a major label release. "I'm just reeling from all this," he said.
Denver Post
Jeff Bradley – Dec 21, 1997 Critic-at-Large
__________________________________________
Kuchar – Fairy godfather to struggling composer
When I signed aboard the Planet, the kindly and generous perpetrators whose names adorn the masthead assured me that I would never have to deal with another "Nutcracker" or "Messiah," whose ever-increasing numbers up and down the Front Range threaten performance gridlock. Marvelous as they are, my overdose of these Christmas staples is similar to the effect of the entire chocolate layer cake stolen and consumed as a greedy child. In any case, :Messiah in its original creation was never intended as a Christmas celebration. Enough is enough!
And yet, here is a tale of good cheer, with perhaps even a touch of the miraculous. Chris Mohr is a young man who earns a living as a staff announcer at KVOD-FM, and adds to his current bread by running a successful wedding chapel with his wife, Karen. He is also a composer, but initial was not burdened by some disciplinary luxuries as knowing how to compose, write orchestral scores, place notes on music paper in a manner intelligible to musicians.
It all started when he was 19 years old and rescued a maiden from an attempted gang rape. From his thoughts about the incident and considerations of humanity's burdens of evil and blessings of altruistic motivation scane the urge, even the need to create a music drama, which from its earliest vision was called "From the Realm of the Shadow."
He bought a book by Hector Berlioz on orchestration, and armed with some basics and a hit or miss attitude, forged ahead on his complex project.
Mohr's score is eclectic, traveling through motest, Near Eastern belly dancing type harmonies and rhythms, Indian ragas, and folk instruments such as the accordion.
After 22 years of struggling creativity, the deed was done. Now what' Who's going to take a great leap of faith on an unknown composer peddling a possibly quirky product, and stage, record and/or film the work'
Theodore Kuchar, that's who!
Mohr had interviewed the Boulder Philharmonic maestro on his radio show, and they had become friends. A few months ago, Mohr packed up his entire operatic score, composed, by the way , entirely on computer, and thrust it at Kuchar after a Boulder concert. Shortly afterward, an invitation arrived from Kuchar. If Mohr could raise $15,000 required to produce a CD in the Ukraine (that sum would barely cover the cost of a conductor in the United States), then Kuchar, whose beyond Boulder titles include Music Director of the National Orchestra of the Ukraine, would record "From The Realm Of The Shadow: with his Kiev orchestra and local singers and techies.
Mohr performed some twists and turns and came up with the money in time to accompany Kuchar to Ukraine. Mohr and wife Karen are winding up production on his dream work.
When he returns to Colorado, CD in hand, there remains the further jobs of selling "Realm" to a recording company and lighting some fires under ballet troupes and opera producers. Having watched him push his fantasy project for 22 years before Dame Fortune decided to endure and succeeds against many odds will make his goal attainable.
Boulder Planet 2/4/98
Classical Review
__________________________________________
Most Denver area music fans know Chris Mohr as one of the golden-throated announcers at classical radio station KVOD-FM. But the host of the Saturday morning Broadway musical show and the Sunday might opera program has many talents – one of which has taken him on a creative adventures in far-off Ukraine.
As you read this, Mohr and his wife Karen, (a former KVOD announcer) are in Kiev, recording his three-act opera, From The Realm Of The Shadow. It's been a long time coming.
"The opera has been 22 years in the making," Mohr said shortly before leaving Denver. Gee, even Beethoven didn't spend that much time on his lengthily struggle to create Fidelio. But then, Beethoven wasn't self-taught, struggling to conquer the craft of composition as the music was filling his head. "I hit plenty of blocks along the way, periods where I threw out large amounts of music. Plus, I was busy making a living," Mohr noted.
In addition to announcing duties, Mohr and his wife ran On The Air Magazine (recently defunct) and currently manage a thriving wedding chapel in Golden. But all along, Realm remains in the shadows, dating back to his college days.
The opera's inspiration came from a harrowing incident that Mohr witnessed as an undergrad – the gang rape of a woman, an attack cut short by his angry intervention. Ever since, he'd been grappling with its horror and its meaning. The attackers were schoolmates who had shown no previous inclination towards such violence.
"I started having these recurring dreams in which the attack occurred as part of a staged show, " Mohr said. "I decided that a dramatic piece might be the way for me to find out the truth in what happened."
But this is no mere retelling of that crime. For one thing, Realm has no libretto. These are singers, of course – this is an opera, after all – but the soloists and the two choruses sing wordless part. The text consists solely of "oohs" and "ahs". Those dreams of his always involved wordless singers, he recalled. "There are no words to describe some mystical experiences. Mohr explained that "the characters represent different aspects of a shattered psyche. It starts in the shadow and ends in the light. The ending takes place in a field of stars. It is peaceful, totally quiet." His score calls for Renaissance-style motets, belly-dance music and Indian ragas.
It alls sounds very avant-garde, but, on the basis of earlier listening sessions of the work-in-progress, I found the music to be surprisingly accessible and rhythmically enticing.
"It's very tonal," he said of the music, adding that the score calls for such folk instruments as the accordion and zither. Recording the two hour work in Kiev seems logical, since that region abounds with virtuoso musicians. But the main reason the Mohrs winged their way to Kiev was the invitation of conductor Theodore Juchar, who serves as music director of the Boulder Philharmonic and the Kiev-based National Orchestra of the Ukraine. Mohr showed his completed score to Kuchar in Boulder, and the invitation to record the opera came soon after.
To meet the expected production cost of $15,000, Mohr rounded up some corporate support, plus some money of his own, and set off to find reality in his long-held dreams (of the gang rape, as ell as his fantasy of recording Realm). No record label has been approached yet, though the connections Mohr made through his tenure with On The Air, a classical-music magazine, couldn't hurt. A movie version of Realm would be the ideal, he suggested.
Will any of this ever see the light of day' Mohr was unsure, though he remains optimistic. "I once got some good advice, "he said. "First , create something – then worry about the marketing. The way my life has gone, I can't solve anything in the standard way, mainly because I don't know what the standard way is."
Rocky Mountain News
Sunday Dec 21, 1997
Marc Shugold
__________________________________________
After a week's worth of intense recording sessions in Kiev, Ukraine, KVOD announcer/self-taught composer Chris Mohr returned to Denver with more than a batch of tapes of his opera, In the Realm of the Shadow – he came home last week with a an appreciation for the good life in America. "On the night we arrived, more than 100 people froze to death in Kiev," Mohr said, adding that 350 villages in the region were without heat, a s temperatures hovered at around minus 20. Though he had high praise to the "amazing talented" musicians (vocal soloist, double chorus, orchestration and folk instrumentalists), Mohr grave highest praise to the orchestatia musicians, whom he witnessed crammed into a small, chilly room, rehearsing Schubert with gloves on. "They work under very bad conditions," he said, "but they have very high spirits."
Rocky Mountain News
Back form Kiev:
by Marc Shugold…